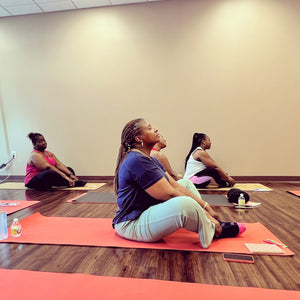 Mocha Yoga provides the most luxurious private group yoga and meditation classes in the Atlanta area. We bring the studio to you wherever you are, parks, offices, homes, rooftops, count on Mocha Yoga to Flow up!
These private groups classes are perfect for a unique family gathering, girls trip add on experience to Atlanta GA, birthday parties, schools, colleges, universities, small businesses and large corporations, non profit organizations, farmers markets, conferences, customer and staff appreciation events, bridal services and more!
No Mat? No problem, we have you covered with our complimentary Eco-friendly and hypoallergenic Mocha Yoga Cork Mats!
To schedule your private group yoga, your next step is to pay your deposit!
The deposit secures your date and time on the schedule.
Have questions, give us a call today! (404) 358-4526